Microsoft Flow has now rebranded itself as a Microsoft Power Automate desktop app. This is a software or tool that enables users to apply the power of automation to their assignments or processes with Office 365 workflow integrations. Microsoft Office 365 possesses a vast variety of apps that are crucial to the business activities of innumerable companies. Applications such as Microsoft Word, Excel, PowerPoint, Outlook, OneNote, and OneDrive among other Microsoft products have their own set of functions, but each of these applications exists individually, not requiring to interact with the others frequently. Power Automate for desktop or Microsoft Flow helps each of these applications communicate with each other and make decisions based on cues from the other applications.
What Does Power Automate Do?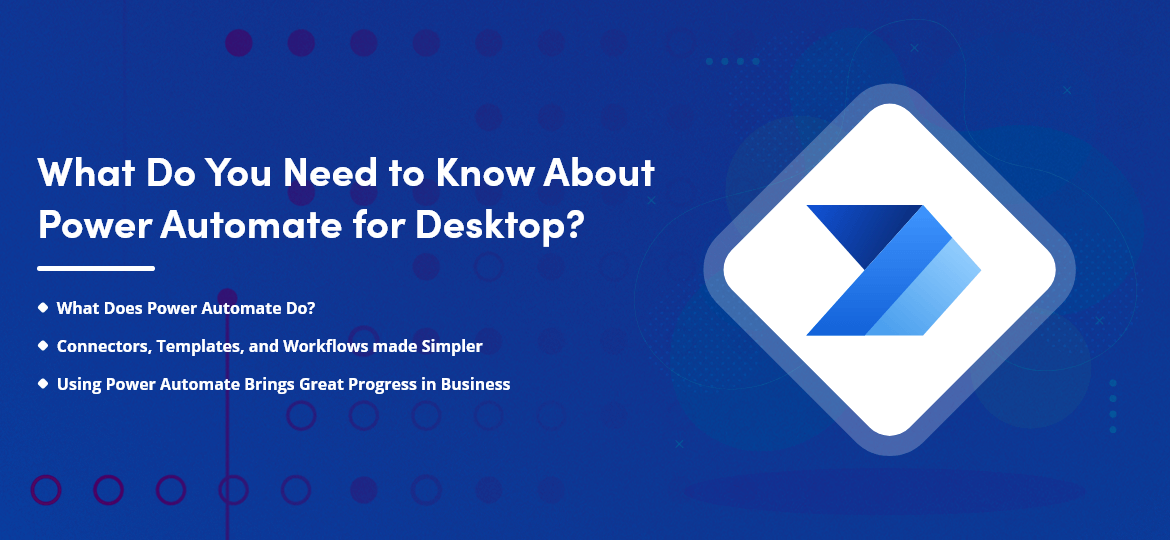 Microsoft Power Automate is a desktop automation software to streamline workflows and processes by integrating multiple platforms and applications together. Professionals can link their Microsoft Office 365 apps together or with a cast library of other apps like a suite. However, these now exist on the Cloud and on-premise ecosystems…
Automations are achievable easily and quickly, which means that users that have just a basic knowledge of Office 365 can now process basic automation of tasks to help their day-to-day business workflows simpler. Expert level users can take advantage of Power Apps or Power BI to formulate custom job workflows. Using flow desktop app or workflows, people can easily chart the way these apps in a suite need to function with each other.
Connectors, Templates, and Workflows made Simpler
Any workflow, on the micro-level, refers to an activity which in turn leads to an event. An instance of this is when an employee gets an email from their peer that has an attachment. Such an attachment automatically gets uploaded using SharePoint. The workflow consists of the email whereas the event is when the attachment gets uploaded to SharePoint. Workflows don't have to be always excessively complex, they can be as small as a couple of steps. On the other hand, an organization also performs or incredibly intricate workflows that involve a myriad of steps, people, and apps.
You can find Flow templates as a form of preset automation as a perk by Microsoft power Automate desktop that includes the most frequently used actions. There are over a hundred preset templates available that cover a few of the most used applications such as Google Drive, Salesforce, Dropbox, SQL server, and social media platforms among others.
Connectors enable employees to link up and connect their systems into a huge collection of applications directly in the Microsoft Office 365 ecosystem as well as across the internet. In 2021, the list of connectors is constantly expanding and comprises Meta, Azure, Slack, Salesforce with additional CRM systems, Google applications like Gmail, Drive, or Sheets, and many others.
Using Power Automate Brings Great Progress in Business
If you're wondering about the use of Power Automate in business, it is a highly valuable skill today that gains brownie points everywhere. Since the rapid speed of business automation for their processes and workflows has been increasing, so is the productivity of various departments. Using Power Automate desktop flow also keeps accountability at the forefront to help the shareholders stay in the loop of major activities. It also helps managers make their day-to-day processes a lot simpler. Power Automate workflows can notify the sales team about new avenues and deals on the CRM, send push notifications for high priority mails and messages, organize as well as archive documents, monitor social media, automate marketing operations, and remind the employees to fulfill their periodic obligations.
As you can see, Power Automate is one large suite of functions that are multi-faced and help the business to flourish best in these times. With automation taking over all the industries at a rapid speed, this is one of the best ways to start an organization's journey into simplifying its operations, no matter what the size of the workforce is.
At the end of the day, connectivity and cohesiveness is the main requirement, especially while working from home, which Microsoft
Power automate can bring to the table, no matter where your staff is working from!